Fun Novelty Political & Movement Sunglasses
Wear your political activism on your eyes with these fun novelty sunglasses. The novelty glasses feature bold messages or images and can be customized further to suit your needs. These glasses are fun to wear at rallies, during parades, party photo ops, and while working to get the vote out or other political, social events.
Note that these are all novelty sunglasses that might cut down on glare but don't provide any real eye protection from the elements. These are great for short-term use outdoors or indoor use.
These fun novelty glasses read VOTE across the lenses. Shown here in the kid's style, you can pick these up in aviator and party styles for adults, and pick a different frame color to best suit your needs.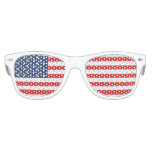 Old Glory stars and stripes are featured across the lenses of these white frame patriotic novelty glasses. This design looks great in red or blue frames, too. Evoke Joe's style by getting these with aviator frames.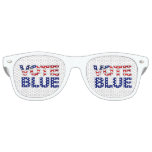 Share your passion for our progressive party with these Vote Blue sunglasses. The text VOTE BLUE is backed with the stars and stripes of the American flag, making these patriotic, too!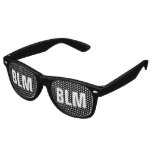 BLM is written in clear bold white text against a black background. Make an easy statement with these black-frame novelty glasses.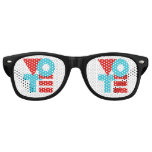 Vote is written on each lens of these novelty sunglasses. The retro style font uses a solid triangle for the V and three straight lines for the E. These fun sunglasses look great in black frames as shown, or pick blue, red, or white for a different look.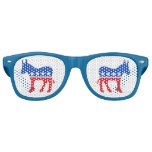 These political novelty sunglasses use the familiar symbol of the Democratic party, the red, white, and blue donkey, to decorate the lenses. These look great in blue frames as shown.