Show Support with Stacey Abrams Yard Signs
Get ready to show real support for Stacey Abrams' historic run for Georgia Governor in 2022 with unique, eye-popping political yard signs.
Bold blue Art Deco style text is used to spell out STACEY ABRAMS on the bulk of this white yard sign. Small caption text underneath a flourish line break reads "For Georgia Governor 2022". The all-caps design gives a clear message.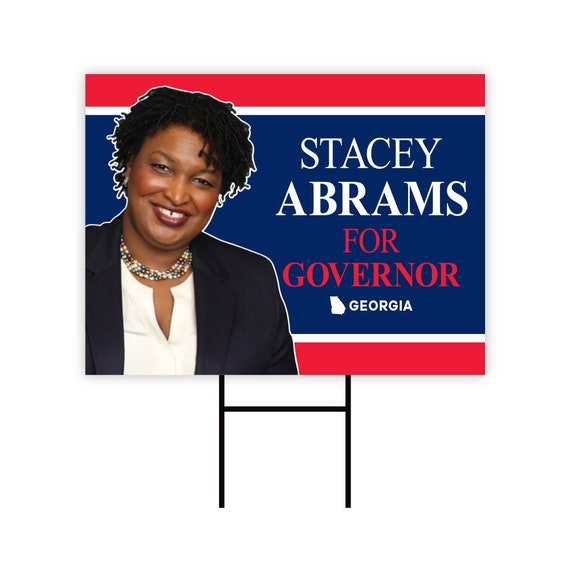 Let Stacey's beautiful smiling face share support with this red, white, and blue yard sign. Text in all caps reads Stacey Abrams for Governor Georgia with a small icon of Georgia at the bottom.
This classic style yard sign uses a sophisticated font style. ABRAMS in all caps is pale blue against a darker blue background. Underneath it reads simply Governor 2022. The bottom of the flag features a flag-inspired ribbon design.
Get this two pack of yard signs to double your impact. Give one to your neighbor, your friend, your parents, or display at home and at work. Bold white text reads Stacey Abrams against a blue background. The bottom portion of the sign reads Governor 2022.
This simple red, white, and blue political sign has a clear message in mixed font styles: I'm voting Abrams Governor 2022. Black and white text contrasts with the red, white, and blue stripes of the yard sign's background.